Made in 1 day. Thus it sucks. And why ? My previous partner had to give up for some reasons so I asked Iuri (his pc is fucked) to help me. And the precious thing did ! Between us vegas crashed about 37 times. and we are not happy whatsoever.
This collab has a story if you don't realise it. Its about the lose of a mother and the survival of the rest of the family.
in his case:
Eren's mother died, leaving her son to this world hoping for him to survive and live his life to the fullest, he sought for revenge tho.
My story: Edward's mother and brother both were killed by monster called homunculos, thus he and his father (mustang sought revenge, and went after all the homunculos.)
All info the in the end.
Hope you enjoy, nevertheless.
https://www.youtube.com/watch?v=3-2nEn2Vt04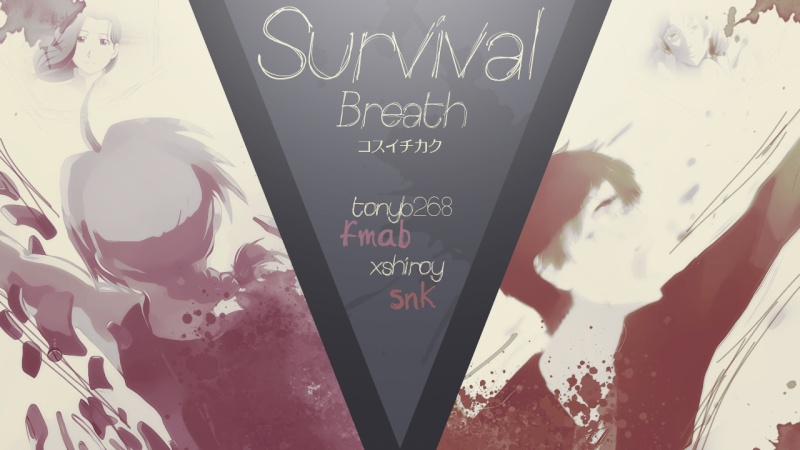 Posts

: 16


Join date

: 2012-07-04


Age

: 22


Location

: Portugal



dont really like the combination but it was well edited, so good job also didnt like the cinematic AR :/ but still good job xD



Posts

: 992


Join date

: 2012-04-07


Age

: 22


Location

: Trinidad



Kyoroichi wrote:dont really like the combination but it was well edited, so good job also didnt like the cinematic AR :/ but still good job xD
The AR was needed, because SNK has a logo unfortunatly and we no time to find any episodes without a logo. /:
Still thanks glad you enjoyed ! Yours was good too



Posts

: 16


Join date

: 2012-07-04


Age

: 22


Location

: Portugal



I liked it, was pretty interesting



Posts

: 750


Join date

: 2012-11-19


Age

: 20


Location

: In the artistic world



[quote="tonyb268"]
Kyoroichi wrote:because SNK has a logo unfortunatly and we no time to find any episodes without a logo. /:
If only you got the subs i told you to get, you wouldn't have to do that :/
Anyway, it was good. Didn't like some parts. But it was pretty good for a 1 day edit



Posts

: 24


Join date

: 2013-03-24




---
Permissions in this forum:
You
cannot
reply to topics in this forum