Hey guys! This is a new Nero Team project nothing serious just a 1 day IC MEP we had featuring a special guest
LUCIOLE
our STK bro !! For one day I say we did a pretty good job haha

So leave your thoughts for us and hope you enjoy it !!

INTO THE RAIN MEP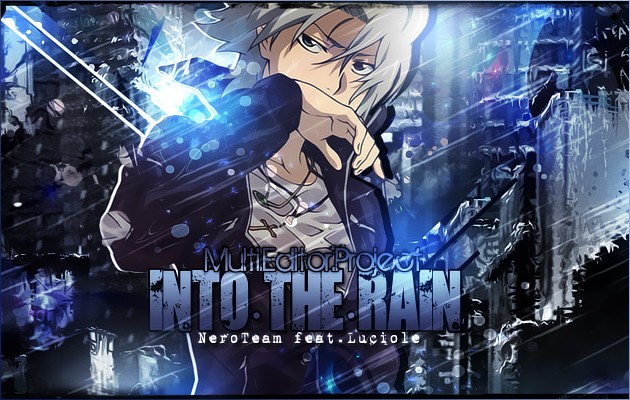 Thanks Luciole for Poster !
Stream:
DDL:
mediafire.com ?9djat4wwzho1vnv
MEP Info:
Spoiler:

Music: Its Alive - Into The Rain
Anime from first to last: Casshern Sins, C: The Money Of Soul And Possibility Control, Fullmetal Alchemist Brotherhood, Bleach, Tales Of Xillia, K Project, Sword Of The Stranger and Tenga Toppa Gurren Lagan
Tracks Info:
Spoiler:
Nice MEP, I will not comment each track, I'm not good in english enough for that, but I can say that Luciole track, the FMA and Kyo were good.
#pasmal
Sora To Kasai





Posts

: 10


Join date

: 2013-05-28


Age

: 27


Location

: Minas Morgul



YEAH BIIITCH !!!
Good MEP seriously

Favorite track : BeautyxPain !
Don't hesitate to contact me if you still want to do a project with me, it's a pleasure

Sora To Kasai





Posts

: 5


Join date

: 2013-03-19



@sephi chan <3 thank you sephi channn

@jeremy chan it was nice working with you, we will do something like this again xD





Posts

: 118


Join date

: 2012-12-18


Age

: 23


Location

: PRO



The time when I get home I will check this out, I've heard rumors of this...

Edit:

That was pretty nice, I liked Kyo & Luciole's track the most



Posts

: 750


Join date

: 2012-11-19


Age

: 20


Location

: In the artistic world



Nada mal para un IC de un día



Posts

: 144


Join date

: 2013-01-23


Age

: 22


Location

: Perú



Hi guys,
I liked it, not bad at all for 1 day

Track 1 Casshern: The lip flaps were annoying but it was okay
Track 2 C: The cam moves could have been better, the impacts too but overall nice

Track 3 FMA: You should make solos more often, I've already noticed you in other meps, this part was cool too! Maybe the scene selection is not really awesome sometimes but at least it makes it a little more original than most FMA parts
Track 4 Bleach: (nice pendant transition) My favourite I think, the calm part is especially well done

When the chorus came it could have been stronger imo
Track 5 Tales of xillia: Bien joué mec, ça va tu les as pas autant retourné que ce que tu disais, sans descendre ta track ils se sont bien battus

Une de mes favs évidemment. Par contre ouais pour le coup le cadre était un peu trop évident j'pense
Track 6 Kyo Project: Not bad at all, legs transition everywhere, suck my leg

I didn't like the cuts in the calm parts though, the scene selection wasn't that great as a sequence.
Track 7 Sword of the: I think the colors are too different from the others here, it shocks a little. Overall wasn't a bad track, but it lacks a little in impact, synchs could be stronger
Track 8 TTGL: Not bad at all, the eye transition didn't look great and it was a little slow though

Good job Nero, you made a nice thing and I'm glad I lent you Luciole for this day

Sora To Kasai





Posts

: 34


Join date

: 2013-04-03


Age

: 24


Location

: BELGIUM



MDL we will borrow you and Luciole for our next one !! xD anyway no. YOU SUCK MY LEG .......... !! but thanks MDL Baboolal we appreciate it


---
Permissions in this forum:
You
cannot
reply to topics in this forum