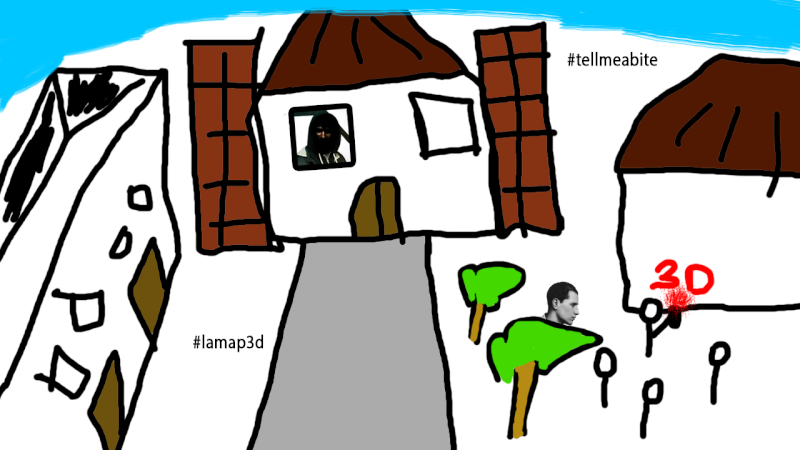 Bann Editor's Cut by Tricky
Bann by Bubule.
Musique: Venus - Beautiful Days
Animes: Letter Bee - Letter Bee Reverse - Fairy Tail - Dantalian No Shoka - Ao No Exorcist - Death Note - Machine Doll Wa Kizutsukanai -Bakuman
Gintama Yorinuki - Naruto - Tales of Xillia 2 -Diablo 3 : Reaper of Souls - One Piece - Original Animation
Logs: Vegas 7, AE cs5, Photoshop CS5, Media Encoder CS5, Virtual Dub, 3DSMax
Quick synopsis: Amberground is an hostile place with few natural lights and giant insects roaming. There is postmen called Letter Bees, which travel these dangerous maps in order to deliver importants letters . One day, Gauche, a Letter Bee, saves a young child left for dead in the barrens. Years passes and the young hero, Lag, decides to become a Letter Bee as well in order to help people. His first quest will be to collect an artifact on Sindria's island, a rare stone desired by not-so-good-intentioned people.
Post mortem:
Spoiler:

- What went well:
Testing original animation with 3ds max and AE helped me to add a lot of variety in the AMV. I encountered a lot of problems and errors which helped me understand the logs better, so i'm sure the artistic feel will look a ton better in the next AMVs.

-What went bad:
The FT villain. i was forced to change the villain since the real boss from LB was cancerously anticharismatic and static. The villain from FT movie felt a lot more dangerous and powerful, but i wasn't able to make him appear sooner in the story, which would have been better.

Lights/Textures in 3dsmax sequences. Modeling and animating wasn't the big problem (i wanted to make it feel like Game of Thrones opening), yet the textures took an enormous amount of RAm because i didn't new how to optimize them. AS consequence, i wasn't able to make all the light adjustments than i wanted to do on my PC. It suffered a lot during rendering.

Vegas Alzheimer. Near the end, i notices vegas just "lost" sequences/scenes of the AMV that i wasn't working on/touched. It forced me to render it in parts and keep it the way it was, since more loss would have compromised the AMV itself. Then, i wasn't able to correct some elements in the amv, like the "manor" sequence i wanted to make more explicit.
One thing's sure, the next big amv i'll do won't make pompous complicated story twists or static main anime. Next one, i'll plan to use a more dynamic one.
Anyway, what's done is done. Feel free to say what you disliked and liked.
Stream Akross:
http://akross.ru/index.cgi?act=video;id=3974
DDL (Akross):
mega.co.nz #!MRNDVDoS!dLUxfEih8fBpJpGwuqdAMXBvWuYSEdKgfzvOHYbJKQY
DDL (Optimal):
mega.co.nz #!wIdymDSQ!CocPa1UXDMj_XmbGT5MWxAZzmzMmHBL0n0xWeCSXQcY
Sora To Kasai





Posts

: 7


Join date

: 2013-08-14



tricky's graphics are parfait, anyway very nice job bro, I don't usually like AMVS with old looking art styles but you I liked your amv a lot :3 like i said gg pbe



Posts

: 992


Join date

: 2012-04-07


Age

: 22


Location

: Trinidad



I liked it a lot, but the story is too complicated ( i didnt get it). I wanted to vote with a big 8 but i missed the click and i voted it 6 xD cant wait for your next video!



Posts

: 259


Join date

: 2013-01-05


Age

: 20


Location

: Italy



#tellmeabite
best making of xD
I really liked the atmosphere of the amv
The story was a little hard to follow so i think i got a kind of my understanding from it

gg
Nero Team





Posts

: 262


Join date

: 2013-04-19


Age

: 20


Location

: Yorozuya



i rly enjoed the making of!



Posts

: 118


Join date

: 2012-12-18


Age

: 23


Location

: PRO



Nero Team





Posts

: 83


Join date

: 2013-03-19


Age

: 23


Location

: Australia




---
Permissions in this forum:
You
cannot
reply to topics in this forum