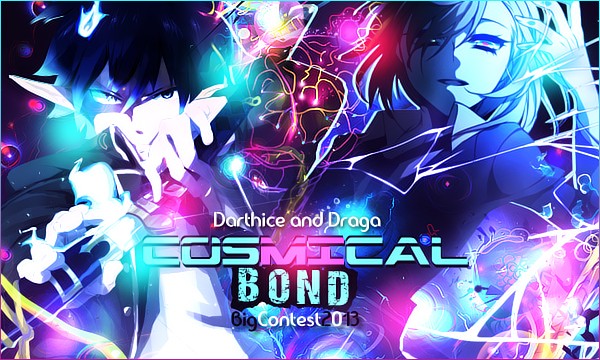 Hi everyone! So this is our AMV for the BIG CONTEST 2013. At the beginning, it was just a quick collab for us but Darthice suggested that we should send it to this contest, so we spend more time on our tracks and we decided to make something better, we beta tested each other, helped each other, well, we enjoyed making it a lot!
Maybe we'll make another collab in the future, who knows... Anyway, we hope that you'll enjoy our AMV as much as we did. Thanks to Echotrooper for beta-testing and thanks to Luciole for the banner!
Collab :
Track 1 : Draga - Ao no exorcist
Track 2 : Darthice - Shakugan no shana
Track 3 : Draga - Fate zero
Track 4 : Darthice - To aru majutsu no index
Song : Fireflight - Stay Close
Streaming Link :
https://www.youtube.com/watch?v=4AYFf6J8_DM
Contest Link & DL :
http://amvnews.ru/index.php?go=Files&in=view&id=4976
Very very nice, the only problem I had was some shakes in part 3 but other than that REALLY good !! good luck in BC !! and the credits is wrong its fireflight not fire light xD
Not bad and GL!

I'll give my opinion on amvnews later



Posts

: 750


Join date

: 2012-11-19


Age

: 20


Location

: In the artistic world






Posts

: 27


Join date

: 2012-12-28


Age

: 23



TheRedflash66 wrote:Not bad, I didn't like how it started though. The mask at 0:29 looked kind of weird and random, didn't need it. Also, the zooms were okay just need to change up at times, felt repetitive. Other than that I liked 3.



Posts

: 750


Join date

: 2012-11-19


Age

: 20


Location

: In the artistic world



Yeah it´s fireflight , he just made a mistake while making the outro , anyway thanks everyone

Well it's a nice video but something that you'd expect to see more in an IC rather than Big Contest.

Track 1: Didn't like it too much, a lot of the scenes especially ones from the opening didn't really fit well. Didn't feel there was too much to the track, pretty plain but still clean/smooth and transitioned well.

Track 2: I liked this one a lot more but felt there was a big lack of impact most of the harder beats weren't really synced.

Track 3: This one was cool, transitioned well, although it was all the usual Fate/Zero stuff and when the song slowed down it didn't really match the song just random opening scenes.

Track 4: Felt like the synch was always a bit delayed and a lack of impact again, kinda similar in the first part but still transitioned nicely and was clean.

Overall it was a pretty nice clip but something you'd expect more in an IC, it was clean , smooth and transitioned well but the pacing/atmosphere weren't the best to me but good job it was a nice clip and good luck in BC.
Nero Team





Posts

: 220


Join date

: 2012-04-11


Age

: 22


Location

: Canada



The clip was good. The first track was a bit boring. But it got better after that. The fate/zero track was my favorite among them. Overall, the clip was clean with some nice transitions. In terms of random action, it was really nice video. But, not really sure if it will do much good in the Big Contest. Anyway, good luck for the contest!



Posts

: 24


Join date

: 2013-03-24



@knight & sajid Thanks both of you ^^ , yeah this project wasn't for the BC , in the beginning it was just a quick collab , then we said since there is the BC and we can edit , why don't we send something? on top of that , it'll encourage us to make better tracks , but yeah i agree that this doesn't fit the BC ^^ , well , maybe at least we can take a good place in the action category , who knows....xD


Similar topics
---
Permissions in this forum:
You
cannot
reply to topics in this forum